WELCOME NEW MEMBERS!  We are so happy that you are here.  We have so much to share with you.  You are here because you have opted to receive one of our products from a recent event and bundle.   
One of my favorite shows of all times have been Sex And The City. I am more of a mix between Charlotte and Carrie. I love all of the fashion statement pieces and of course the supportive group of female friends. Which in reality is more rare than you would think. I was watching a segment on Good Morning America when the hosts were discussing how toxic the work place has become in recent years. People either don't talk to each other anymore or there are too much corporate politics.
Running your own business or going online does not shield you from the same dilemmas either. It's probably harder working online because we don't get the same interactions that we would get in a normal office setting. But I prefer it because I can do all of the creative things that I want to do without feeling like someone is watching me over my shoulders and judging me for my crazy choices of website colors.  
I have spent several weeks wrestling with a new tech platform and connecting all of the pieces together. Staying up late and pulling all nighters. I thought those days were over after college, but nope, here I was again. The printer wasn't working. And my son had a science project due the next day because the teacher moved the due date back 2 days earlier. Autoresponder wasn't saving anything that I wrote.  And after 5 tries, I just had to walk away and let the tech gremlins sort themselves out. My sales pages wouldn't work and my website kept kicking me out. I was in total panicked mode.
All of the bad luck aside, I literally have the BEST group of friends and colleagues. When they sensed that I was under tech distressed, they intuitively jumped in to help and supported me. I can't tell you how much effort it took me for this email to go out today. But it's important that I get this out and not just give up on the effort. I have had a lot of challenges this year. Mostly due to health reasons and technology issues. But I am still here and I am back.
I want to write today's email on the importance of having a sense of community who is supportive to you and what you do. AND I also want to emphasize how important it is to not let the set backs in life let you down. When everything seems to go wrong, you must persist and keep on going. Only the strong survives in business. And I promise you that it will always get better. But you have to carve your own way. And it helps to keep on going when you have supportive and encouraging people in your camp.
For me, it's the ladies at Digital Divas Headquarters. They are all so talented and so generous with their knowledge.  And just the BEST group of people! 
That being said, The Digital Divas are BACK! And they have some amazing deals for the next several days. Today's deal is presented by the talented Stephanie Hansen. Go and check her offer out>>
Before you go, reply to this email and let me know which Sex And The City character are you? I will post the results in follow up emails. And for anyone who responds, you'll be thrown in a drawing to win some prizes! Yep, I want to make this fun, because why not? Life is too short not to throw our hair back and just enjoy the ride.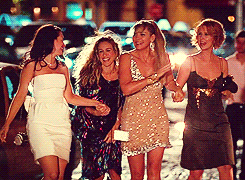 MORE GOODIES TOMORROW!  I have also added A LOT of new Bonus products.  So if you have any coupons or gift certificates, please do use them.  My coupons and gift certificates that are assigned to you for products never expires.  
To Your Success!
-Helen Ross-
**If you no longer wish to receive any communication from me, you can unsubscribe below this email. However, please be aware that this will take you off all of my lists and you will no longer receive any updates, upgrades, bonuses, support, etc... on any previous purchases or downloaded products. And you will also lose access to our ever growing Resource Library that is Free for our members only.  And if you want to receive any emails in the future from me, you will need to use a new email address. My email servicer will not let you resubscribe under the same email. Their rules not mine.